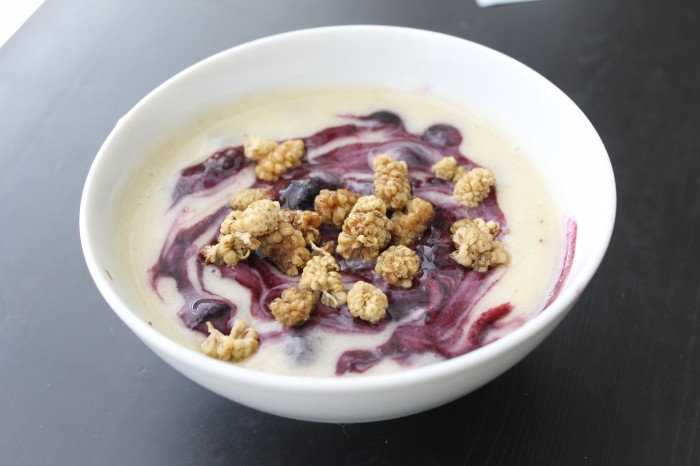 This smoothie tastes like a soft-serve version of a blueberry muffin; its delectable sweetness comes from the semi-frozen ripe bananas. When ripe and speckled, they have a soft, creamy texture that pretty much turns into the most delicious soft serve once frozen and blended. The juicy blueberries pair perfectly with crumbly and buttery dried mulberries for a dish that is full of sweetness. It's really simple to make–check out the recipe below.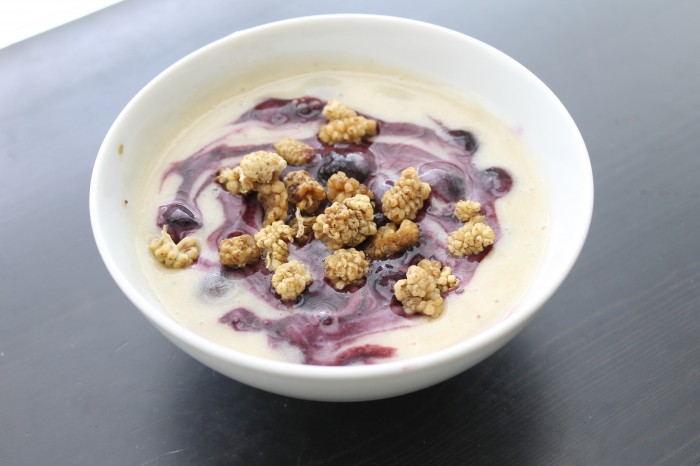 Blueberry Crumble Smoothie Bowl
2014-03-24 12:54:21
Ingredients
4 medium ripe bananas, peeled and frozen
1 cup thawed frozen blueberries
1/2 cup dried mulberries
1/4 cup coconut sugar or another unrefined sugar
Instructions
Combine mulberries and coconut sugar in a food processor and pulse until crumble forms. Set mixture aside to add to the top later. Blend bananas in a food processor with a little liquid such as almond milk. Add thawed blueberries into the soft serve and mix. Top with mulberry crumble and enjoy.
Simple Sweets & Treats http://simplesweetsandtreats.com/