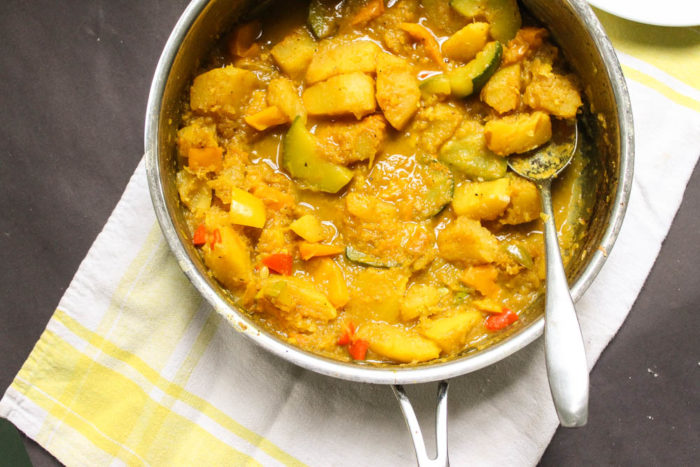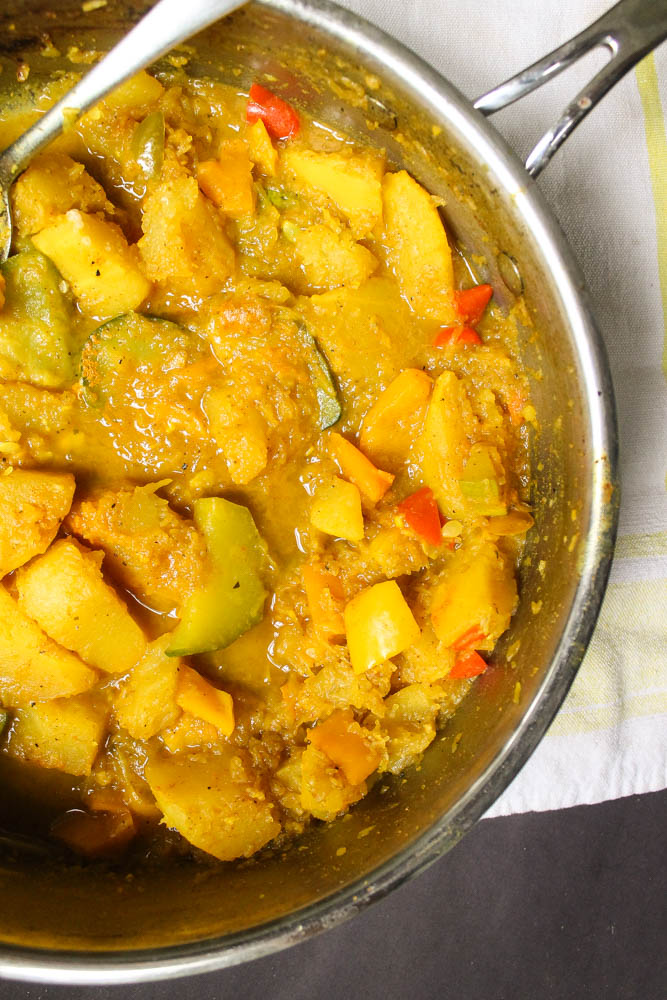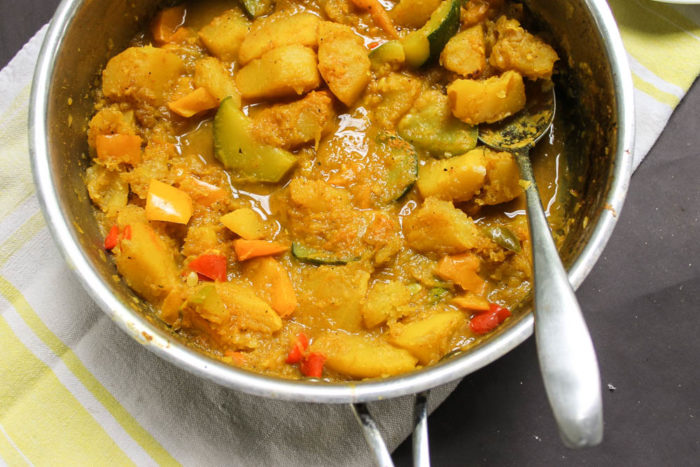 The abundance of pumpkins and the crisp fall weather makes for the perfect time to start cooking warming dishes with heating spices and hearty ingredients like pumpkin curry. While we normally think of pumpkins as a decoration or an ingredient in pies, it's easy to forget how delicious this seasonal ingredient is in savory recipes such as curry.
Small pumpkins are often used in Thai cuisine–they can be boiled, steamed, or baked. Pumpkin is such a versatile ingredient that is amazing in so many recipes. Surprisingly, it is actually very tasty in non-sweet/dessert recipes so it's time to start incorporating them into your hearty soups and other savory meals. It tastes similar to sweet potatoes and butternut squash when steamed or baked. Add it to soups, stir-fries, and curries. Plus, it's such a nourishing food that is both warming and satisfying. Some main health benefits of pumpkin are that it is full of fiber and nutrients that keep your heart, eyes, and skin healthy while also helping the immune system with protecting against seasonal viruses.
This pumpkin curry recipe might be messy, but it is soft, savory, and warm with flavors that are lightly spicy and fragrant from the rich and flavorful herbs and spices. Along with these delicious flavors, coconut milk adds a creamy and buttery element that cools down the spiciness. Soft curried pumpkin can be a delicious topping over rice or simply eaten as a soup. All you need to do to make this recipe is skin and chop a small pumpkin, remove the seeds and then steam/simmer it until soft and then add the other ingredients so that it can soak up the seasonal flavors.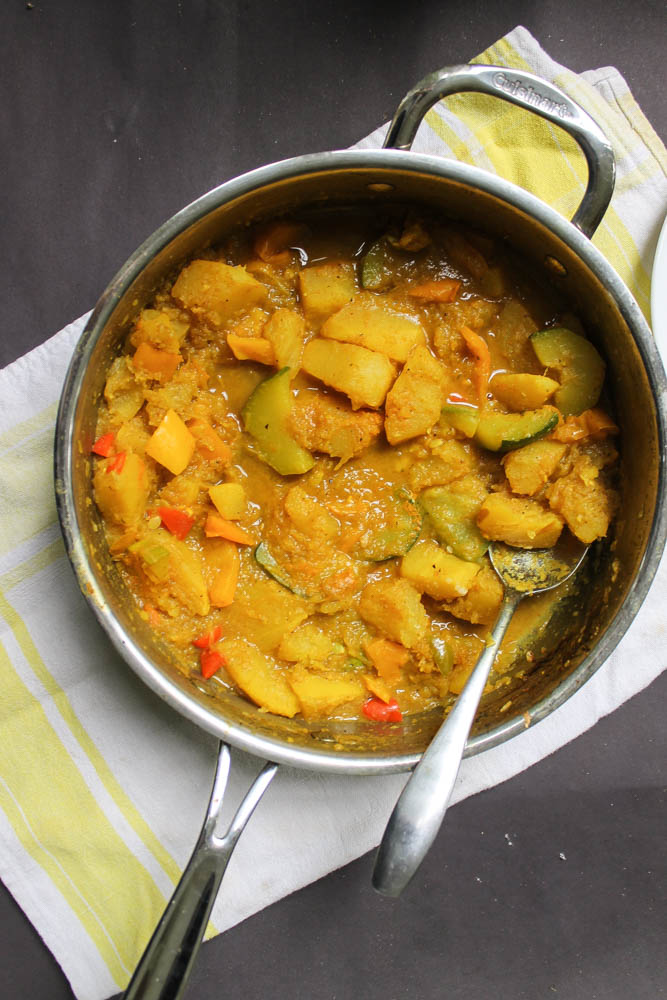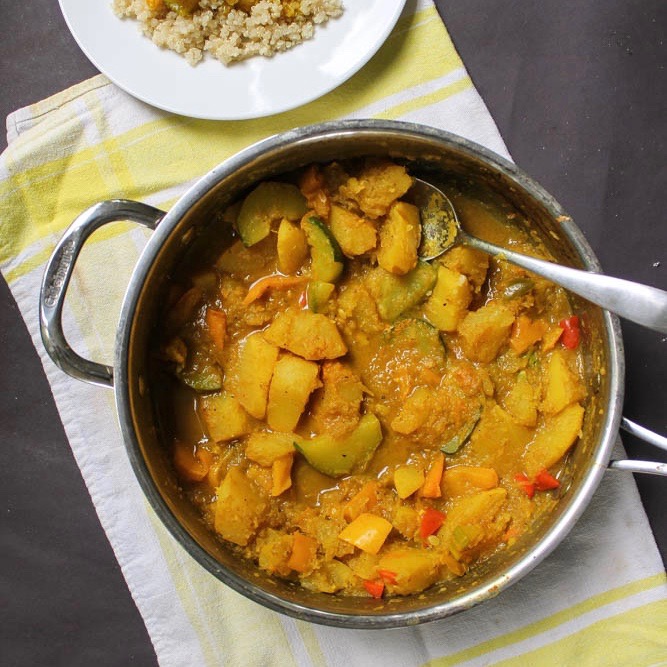 Pumpkin Curry
2016-10-29 11:50:10
Ingredients
2 cups water
3 garlic cloves, minced
1/2 tbsp. fresh ginger or ginger paste
1 tsp. curry powder
1 tsp. turmeric
1 tsp. ground cumin
1/4 mild red chili pepper or 1/4 tsp chili powder
1/2 small pumpkin, skinned and chopped into cubes
salt and pepper to taste
1/2 of 1 zucchini, chopped
1 diced yellow bell pepper
1 chopped tomato
3/4 cup coconut milk
Instructions
Begin by cutting into the pumpkin into quarters, then peel the skin off of the pumpkin. Heat the water in a medium saucepan and add the garlic, ginger, and other spices to the hot water until fragrant. Add the diced pumpkin and chili pepper and steam while covered for about five minutes. Now add the zucchini, bell pepper, tomato, and coconut milk--let simmer for about 10 more minutes. Add salt and pepper to taste and serve over quinoa or rice.
Simple Sweets & Treats http://simplesweetsandtreats.com/