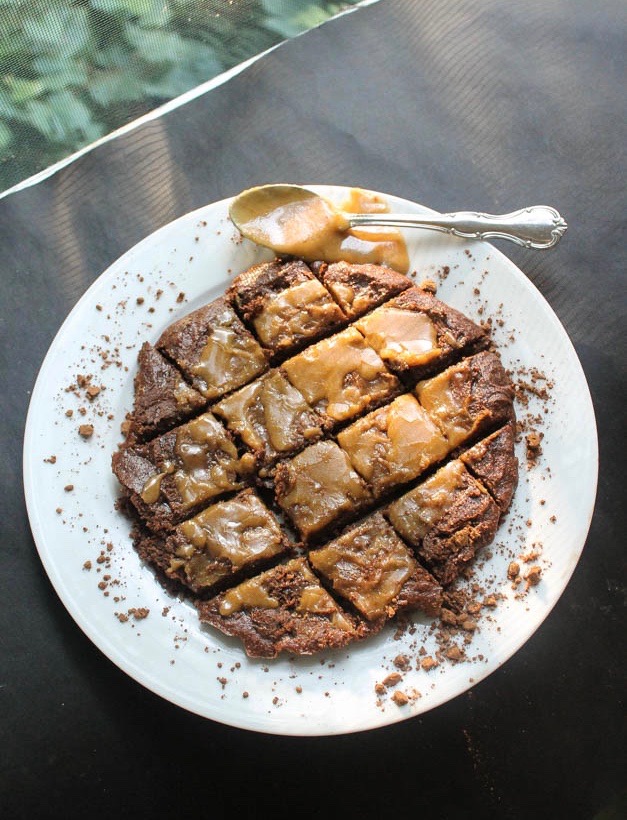 How can one not love gooey, fudgey brownies? Add salted caramel to the mix, and said brownies become irresistible! As much as I love the everything salted caramel craze, these brownies were not intentionally made to become salted caramel brownies, but a magical accident happened (baking accidents are the best) and the type of sugar, vanilla and other icing ingredients transformed into caramel and voila! — Chocolate Brownies with Salted Caramel Icing were created.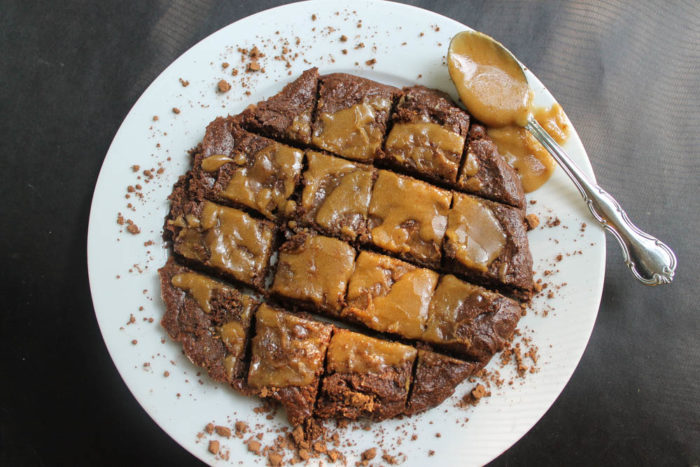 Unlike sticky caramel that gets stuck in your teeth, this caramel icing is light and soft yet sweet and buttery. Dusted with a sprinkle of pink Himalayan salt, and the salty sweet perfection melds into the chocolate brownie layers. When drizzled on top of the brownie cake fresh from the oven, the salted caramel icing is able to melt into the hot brownie and mix with the chocolate chips to create a chocolate caramel swirl. Chocolate, caramel, and pink salt — the three ingreidnets to happiness.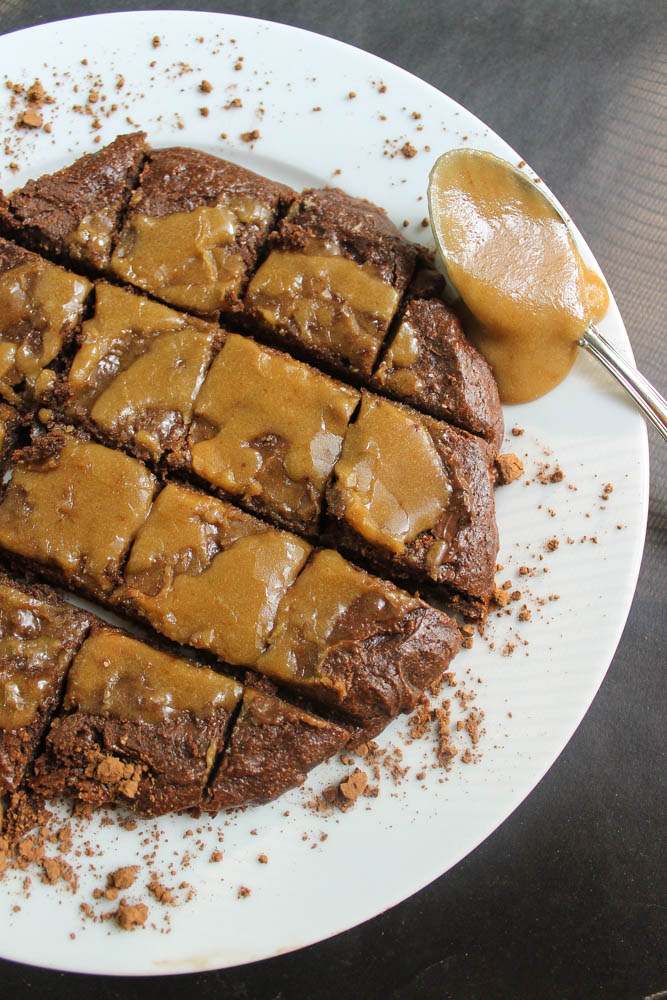 While brownies are not exactly the epitome of health food, these brownies are somewhat better for you than the traditional brownie. They are made with plant-based and mostly unrefined ingredients. They actually happen to be grain-free, gluten-free, dairy-free, egg-free and nut-free. That's a lot of allergies that you don't have to worry about when making or consuming this sweet treat. This brownie recipe takes the trouble out of finding the perfect dessert to make for everyone; they are great for bringing to an event while avoiding harmful ingredients or potential allergens. Simple ingredients = simple chocolate and caramel taste. Plus, there's the added benefit of high protein in this baking mix. Besides containing high quality ingredients, these brownies taste rich and decadent. Whip up a batch of these chocolate brownies with salted caramel icing for a fun and simple plant-based treat!
Chocolate Brownies with Salted Caramel Icing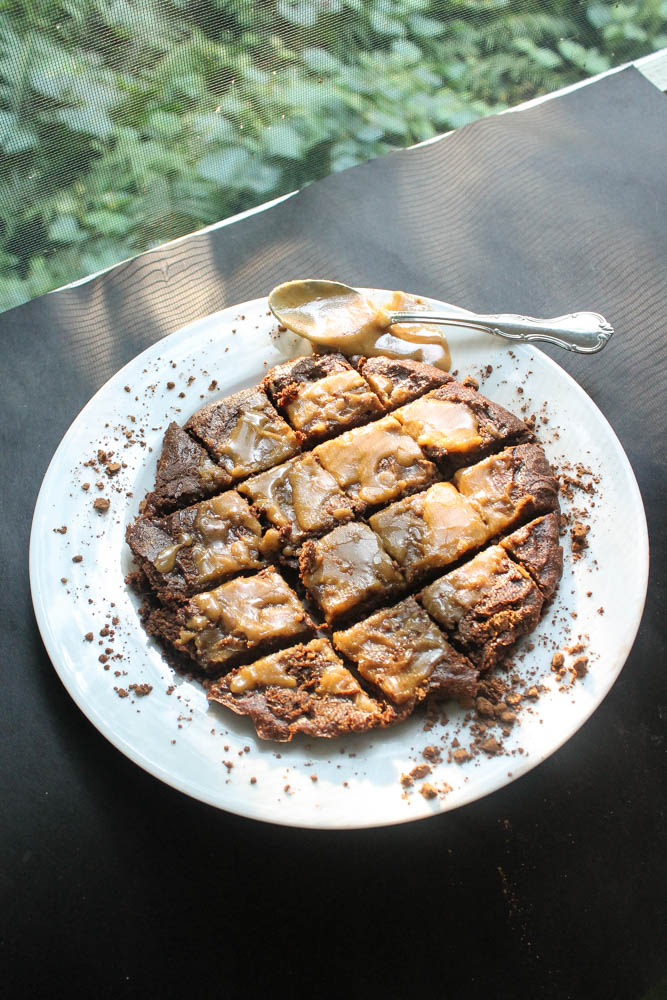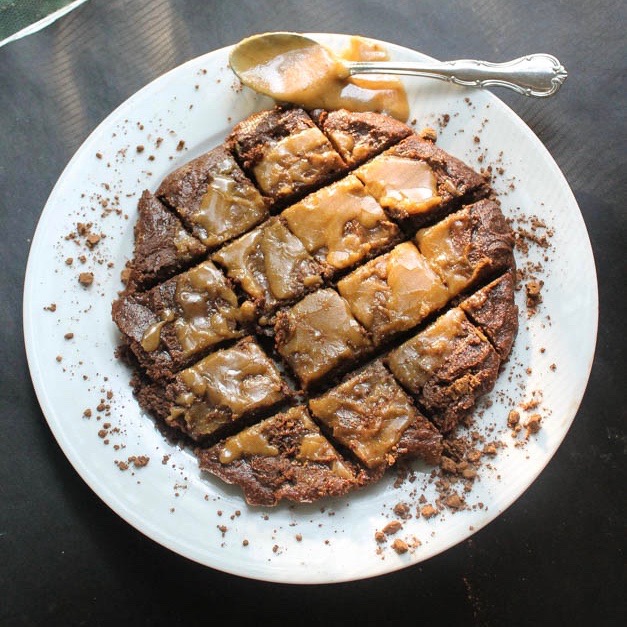 Chocolate Brownies with Salted Caramel Icing
2017-07-18 11:09:02
Brownies
1/2 cup organic sugar
1/4 cup oil
1 tsp. vanilla extract
1/4 cup non-dairy milk or water
1/2 cup melted chocolate chips
1 and 1/4 cup flour of choice
1/4 cup cocoa or cacao powder
1 tsp. pink salt
Icing
1 cup organic powdered sugar
1/2 cup coconut sugar
Sprinkle of pink salt
Around 2 tbsp. nondairy milk or water (just enough until frosting reaches desired consistency)
Instructions
Preheat the oven to 350 degrees Fahrenheit. Meanwhile, combine first four wet ingredients in a regular bowl and mix. Next add melted chocolate chips to the wet mixture and stir until just combined (a tip for quickly melting chocolate chips is to add hot water to the measuring cup with chocolate chips and let melt, then drain the water). Mix everything together, then add the dry ingredients and combine until batter forms. Add to a brownie pan lined with parchment paper, and spread the batter evenly. Bake for about 15 minutes. Once out of the oven, sprinkle on more chocolate chips and spread once they have melted to form the chocolate layer. Let brownies cool while mixing icing ingredients in a bowl. Drizzle icing on the brownies and top with pink salt. Bon appétit!
Simple Sweets & Treats http://simplesweetsandtreats.com/