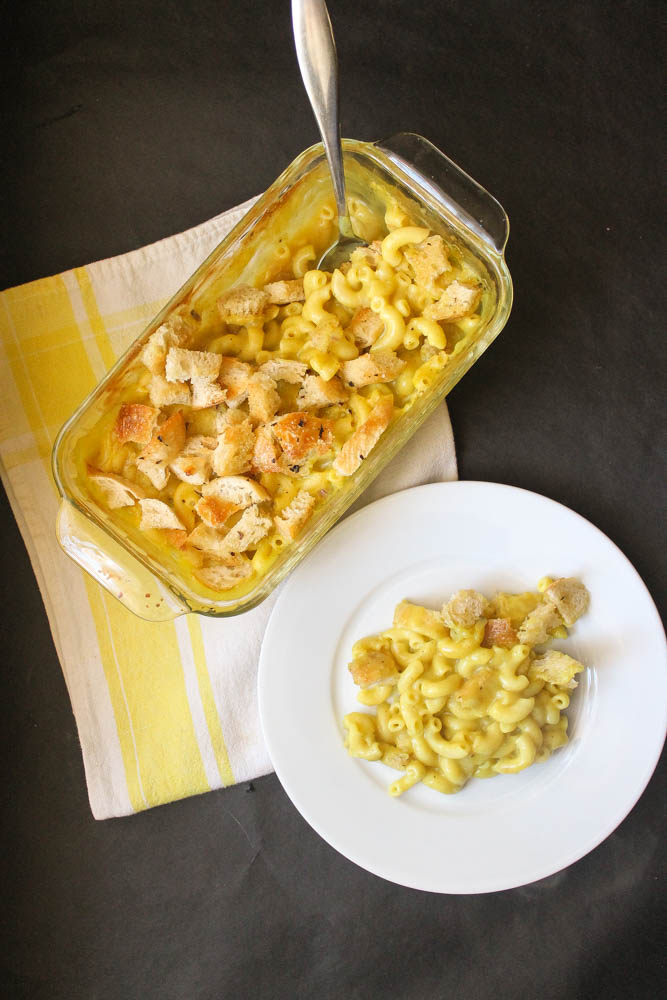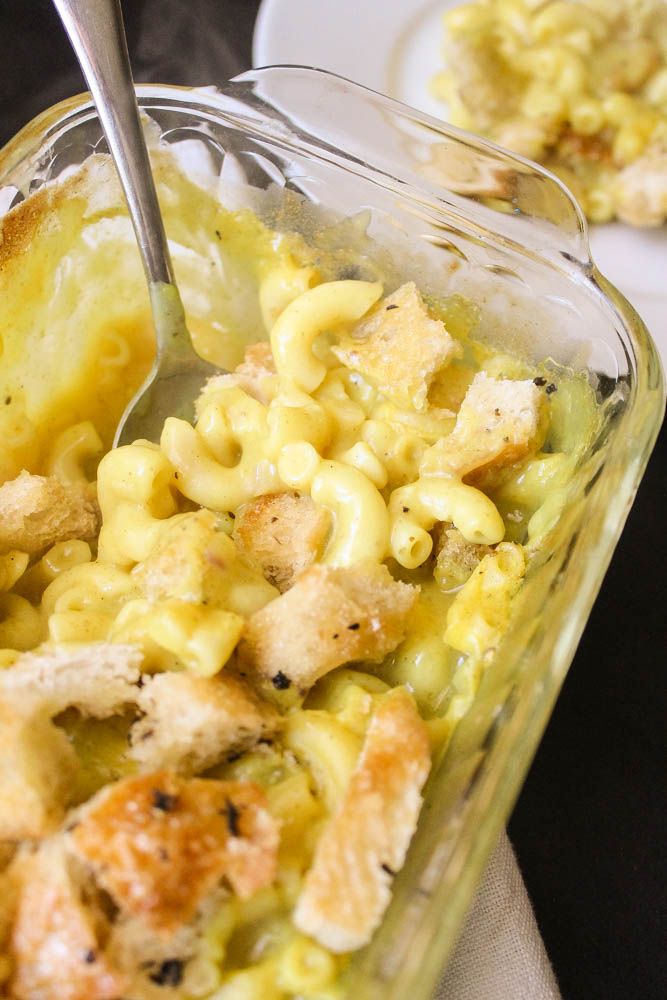 Baked pasta takes simple pasta to a much higher level. A little extra time to crisp in the oven allows for flavors to intensify and for a baked, crispy topping. In this cheesy baked pasta, the creamy sauce covered noodles bubble into this crisp topping as they meld together to create an amazing balance of creamy and crispy. This combination of baked crispness, creaminess, and cheesiness creates a pasta that tastes wonderful and is so satiating.
The topping of this cheesy baked pasta is made from chunks of bread coated in herb-infused olive oil. Digging into this crispy golden topping reveals noodles drenched in a creamy sauce that soaks into the olive oil coated breadcrumbs. But this pasta could actually be considered fairly nutritious, considering the secret sauce ingredient (buttery golden potatoes) is full of vitamins and minerals. It is also dairy free, thanks to this ingredient, and the noodles and breadcrumbs can be substituted for gluten free versions. It's a great recipe for allergy-friendly comfort-food that is wonderfully cheesy, creamy, crispy, and satisfying. Thankfully, all you need are some simple ingredients to whip up a batch of this creamy, cheesy baked pasta.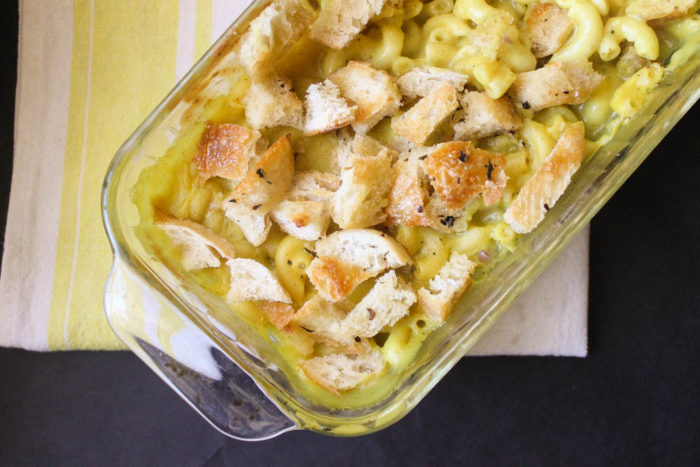 Cheesy Baked Pasta
2 cups boiled chopped potatoes (Baby Dutch Yellow Potatoes were used in this recipe)
1/4 cup cooking water
3 cloves garlic, minced
1/4 tsp. sea salt and a dash of black pepper
1/2 tsp. Italian seasoning
1/4 cup nutritional yeast
Breadcrumb Topping:
2 slices of sourdough bread (or a GF version), crumbled into chunks
3 tbsp. herb infused olive oil (Regular olive oil works too)
Additional sea salt and black pepper to taste
Cook noodles of choice until el dente, about 12 minutes. Meanwhile, boil the chopped potatoes in another pot for about 15 minutes. Drain the noodles and add them to a small casserole dish. Once the potatoes have finished boiling, add them to a high-speed blender or food processor along with 1 cup of the hot water. Add in the seasonings and blend on high speed until smooth. Pour this sauce over the noodles and mix. Now to assemble the breadcrumb topping, add chunks of bread to a pan and coat in olive oil and Italian herbs. Top with a sprinkle of salt and pepper. Next, bake the pasta and the breadcrumbs separately for 10 minutes at 350 degrees, then top the pasta with this topping and bake for an additional 10 minutes or until it has reached desired crispness.