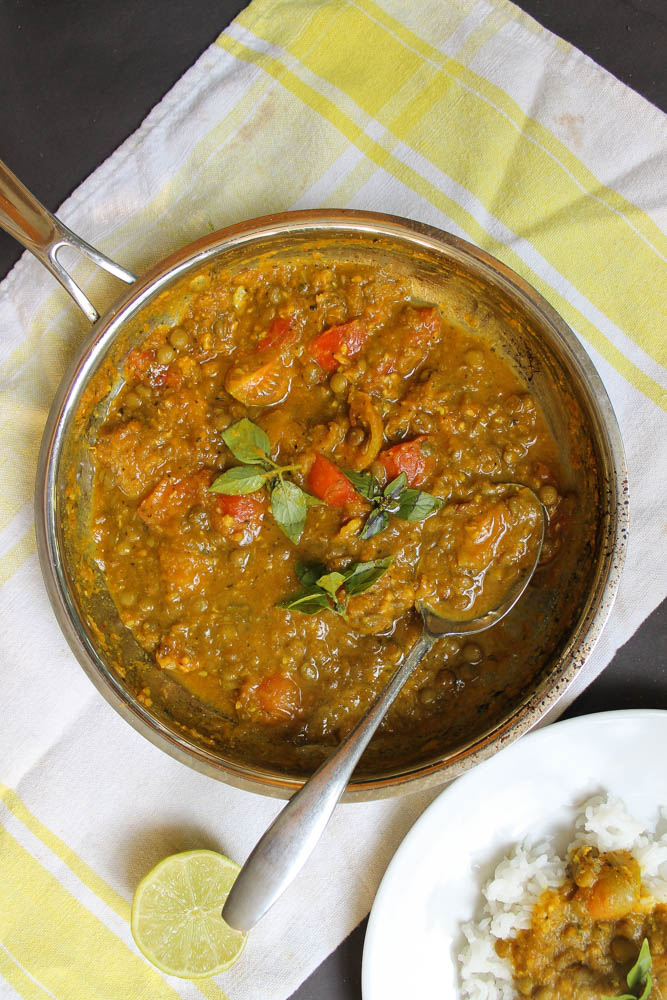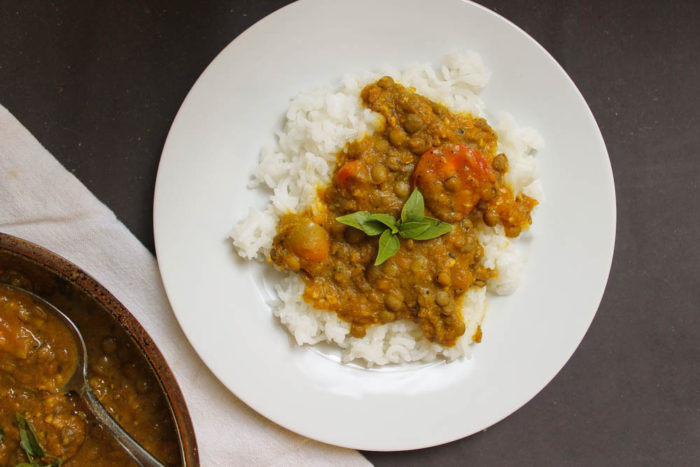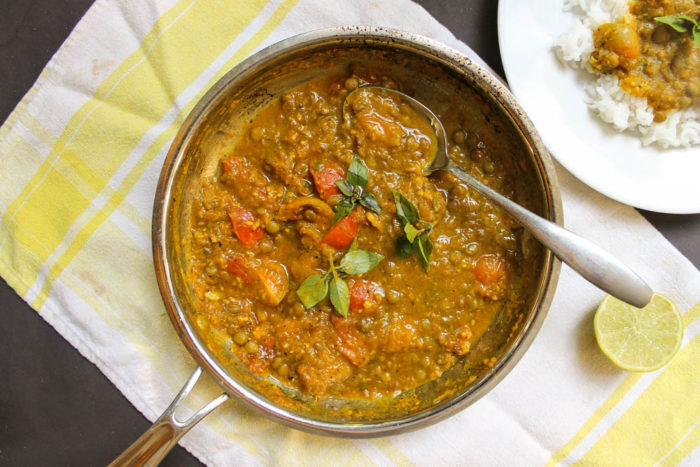 During the hectic holiday season, it is super convenient to put a hearty soup on low to simmer so that you can work on something else while dinner cooks itself. Simmering also allows the flavors in the soup to slowly develop and soak into any and all beans, legumes, veggies, or grains being used; this creates a fragrant and savory tasting soup. Slow-cooked soups can be made in a slow cooker, pressure cooker, or even left on the stove over low heat. These meals require some prep, but leaving them to cook on their own makes up for any prep time.
This recipe for savory Italian style lentils is just that–quick prep, yet deep in flavor thanks to the long cooking time. The herb-infused lentils are also hearty and full of protein–a satisfying and warm winter meal after an icy day. Along with plenty of sautéed garlic, the lentils absorb flavors from the herbs and spices as they simmer until tender. Italian style lentils are delicious over noodles, rice, or even as a soup served with a side of crusty bread.
Besides being delicious and versatile in so many recipe, lentils are amazing for your health. Plus, they are an easy, delicious way to consume loads of protein and minerals. With 18 grams of protein in just one cup, they are a great source of plant-based protein. They also contain folate, iron, copper, phosphorous, pantothenic acid, potassium, and manganese as well as vitamins B1 and B6 just to name a few of the minerals and vitamins contributing to healthy function of the body. They are also a great source of fiber, making them excellent for digestion, stabilizing blood sugar, and balancing overall health. This high fiber content helps lower cholesterol while the high magnesium and folate content also contribute to enhancing heart health.
*A great link for learning more about the benefits of Lentils
Italian Style Lentils
2016-12-18 15:02:08
Ingredients
1 cup dry lentils
4 cups water
1/2 onion, chopped
3 to 4 cloves of minced garlic
1 cup chopped tomatoes
1 red pepper, diced
2 stalks of celery, chopped
2 tbsp. tomato paste
1 tbsp. brown sugar
1 tsp. basil
1 tsp. parsley
1 tsp. oregano
1/2 tsp. black pepper
2 tbsp. extra virgin olive oil
Instructions
Rinse lentils and add to a slow cooker or a medium-sized pot along with water. Add the additional prepared vegetables, then spices, and stir until combined. Cook on low for about 9 hours or on high for about 5 hours. Serve warm over pasta or rice, and garnish with additional herbs, salt & pepper. Enjoy!
If using the stove-top cooking method, bring lentils and veggies to a boil, then allow lentils to simmer for about 45 minutes or until tender. When lentils are soft, add the spices and simmer for another 10 minutes. Serve warm and garnish with additional herbs, salt & pepper. Enjoy!
Simple Sweets & Treats http://simplesweetsandtreats.com/