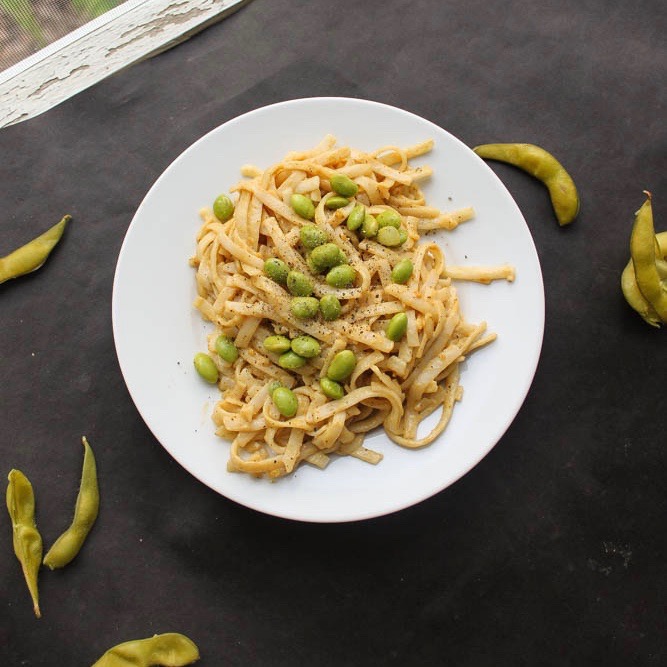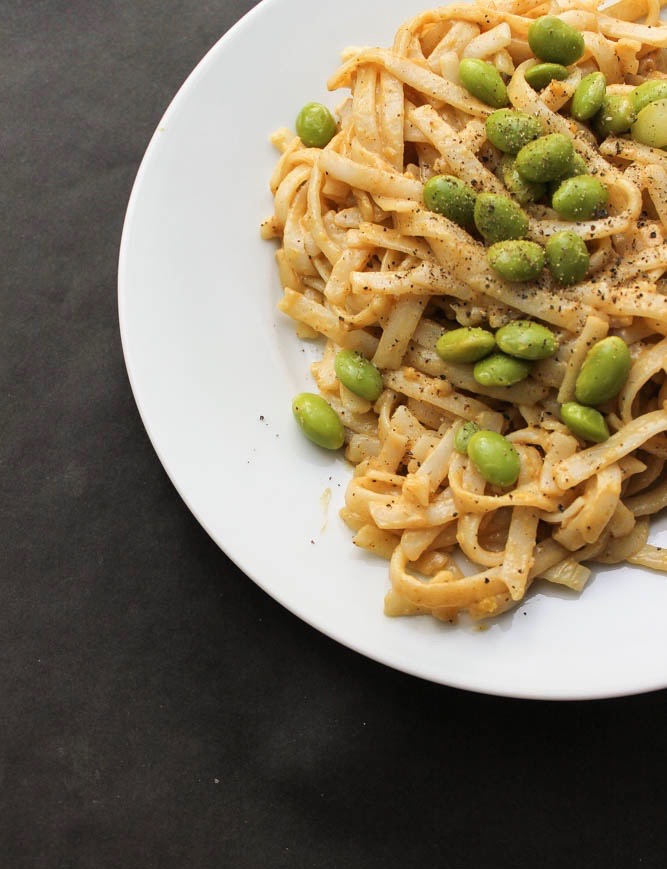 Peanut sauce is such an amazing creamy and nutty sauce used in Asian cooking that is made with ground roasted peanuts combined with spices. This is what creates such a smooth, rich sauce with lots of flavor. To make a simpler sauce inspired by authentic Asian peanut sauce requires just a few main ingredients that are common kitchen staples plus some mild spices.
In these spiced peanut noodles, a silky smooth peanut sauce coats ribbons of rice noodles. Thankfully, the sauce is simple to assemble with ingredients like creamy peanut butter, maple syrup, and some spices. It has a deep, nutty flavor that melds wonderfully with the subtle saltiness and spiciness. This flavor along with a hint of maple sweetness creates an amazing salty sweet flavor. Soaking up this rich sauce, sweet rice noodles add a nice texture to complement the thick and creamy sauce. Once combined, the fragrant spiced noodles and rich, nutty sauce are splashed with the lime juice—the final touch to enhance flavor and to add some zest.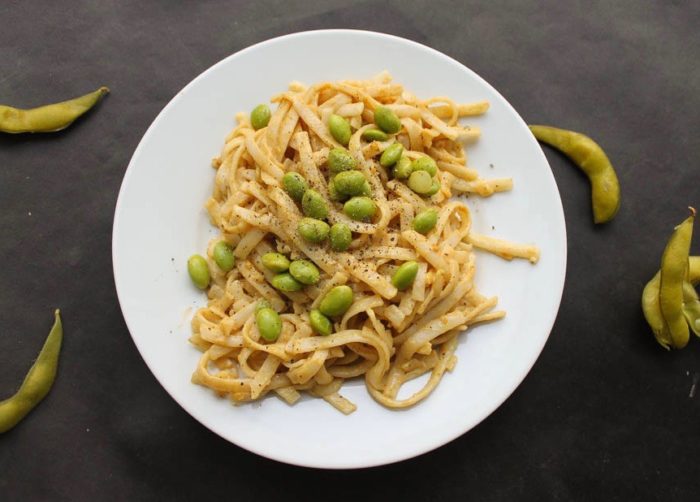 Health Benefits
Tossed with tender edamame and coated in a smooth peanut sauce, spiced peanut noodles are also full of easy-to-digest protein, thanks to the legumes. Peanuts and edamame provide essential amino acids along with folate, manganese, B vitamins and numerous essential nutrients. Surprisingly, peanuts contain antioxidants such as resveratrol, adding to their heart-healthy properties.
Also high in protein, vitamins, and minerals, edamame contain: magnesium, iron, calcium, phosphorous, potassium, and zinc. But they are not limited to these nutrients and provide a vast nutrient profile that is often underrated. This tender little bean is good for your bones, heart, and overall health. Besides being well known for a high protein content, edamame can help lower cholesterol and provide plenty of vitamin K1, folate, and thiamine. It also contains isoflavones, which are thought to lower the risk of certain cancers. Altogether, these high-protein ingredients along with the powerful combination of spices like turmeric, cumin, and ginger create a nutritious yet flavorful bowl of creamy spiced peanut noodles with a slight kick from the lime juice and spices.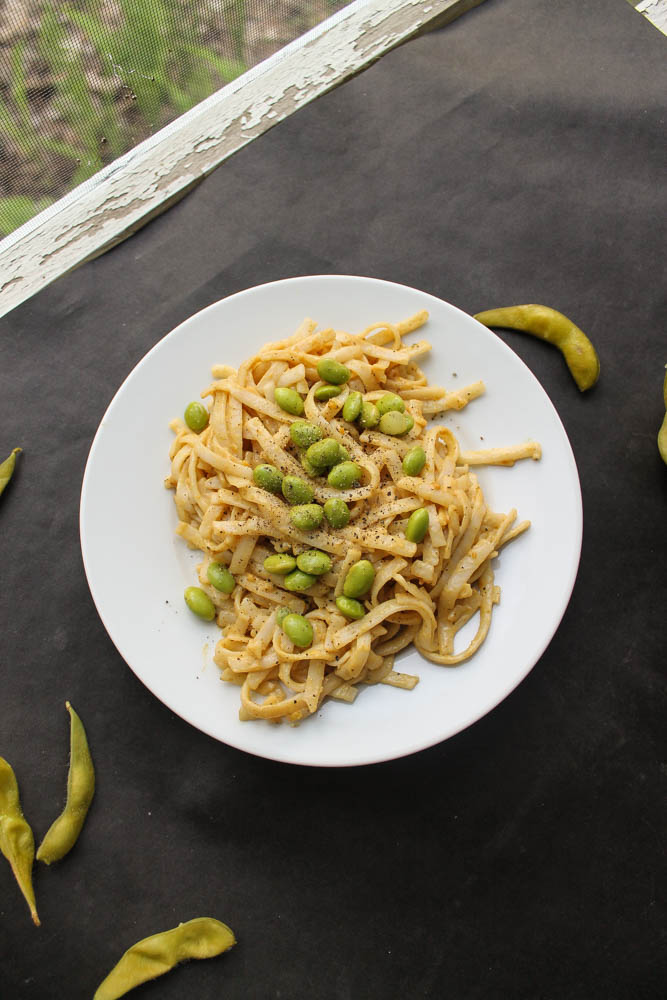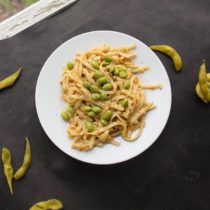 Spiced Peanut Noodles
2017-07-12 10:28:52
Ingredients
4 cups cooked rice noodles
Sauce
2 tbsp. oil of choice
3 garlic cloves, minced
1/3 tbsp. ground ginger
1/2 tbsp. chili powder
1/4 tsp. ground cumin
1/4 tsp. turmeric
1/4 tsp. salt
1/4 cup maple syrup
1/4 cup creamy peanut butter
3 tbsp. rice vinegar
2 tbsp. lime juice
Add-ins
1/2 cup boiled edamame
Sprinkle of salt and pepper
Optional: 1/2 cup chopped red peppers and 1/4 cup fresh cilantro
Instructions
Start by adding rice noodles to boiling water. Boil for 10 minutes, then strain and rinse under cold water or cook according to box instructions. Set aside noodles and prepare sauce ingredients. Also, boil shelled edamame if using and set aside with the noodles. Start making the sauce by sautéing garlic and oil in a medium sized skillet until fragrant and soft but not crispy. Add the ginger, chill, turmeric, salt then mix together. Next, add the maple syrup, peanut butter and rice vinegar and stir until all the ingredients combine and the spices are incorporated into the creamy sauce mixture. Toss in the rice noodles, cooked edamame, and optional ingredients to the skillet and stir ingredients over low heat until sauce is mixed into the noodles. Sprinkle with additional salt and pepper and serve with an extra splash of lime juice. enjoy!
Simple Sweets & Treats http://simplesweetsandtreats.com/