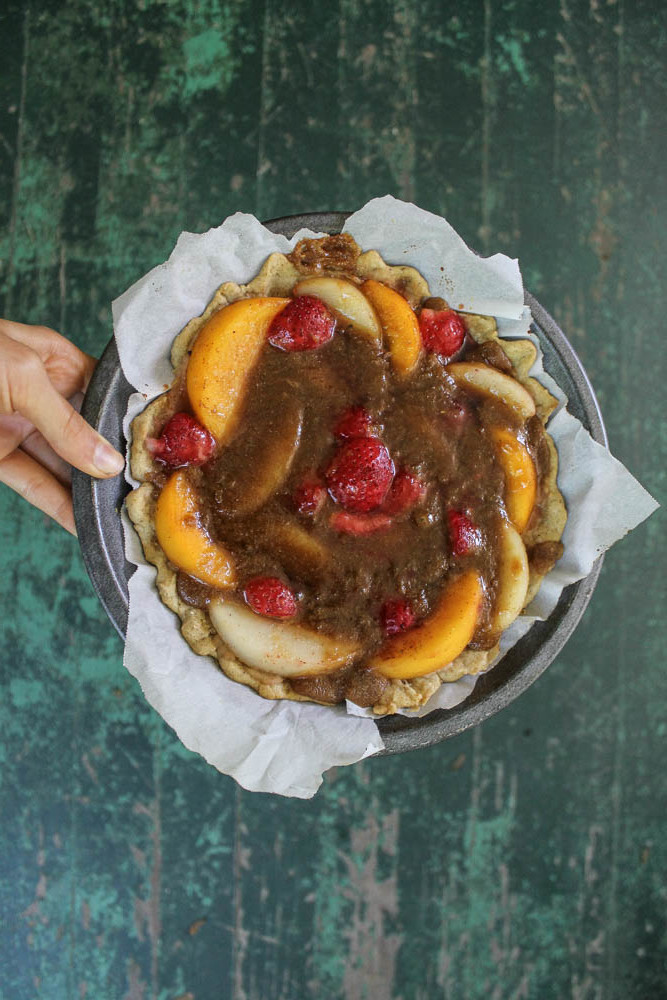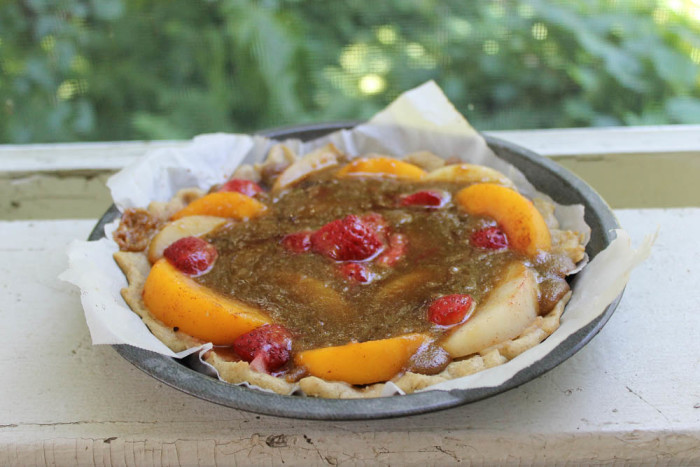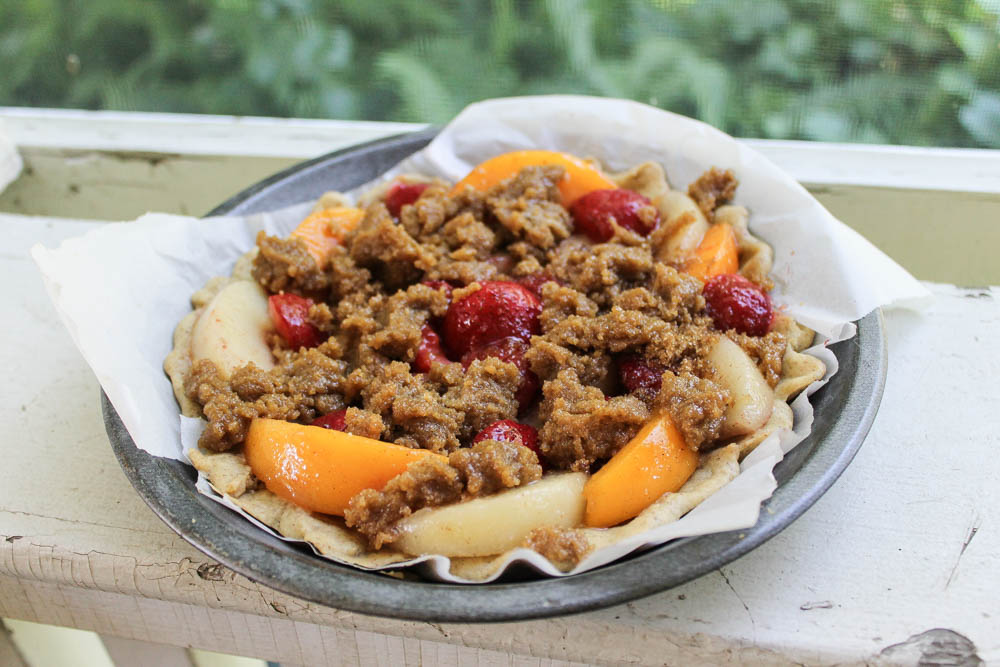 This GF Strawberry Peach Pie has a golden, buttery crust that is topped with sweet summer fruits and a warm caramel-like brown sugar sauce. It is a decadent pie yet it's super simple to make. The crust itself contains just a few ingredients, and they are plant-based! If you have celiac disease or food allergies, this gluten-free pie will be a special treat since you probably haven't had pie in way too long. Thankfully it is not just an imitation pie; my fellow taste-testers loved this, and could not believe it was gluten free.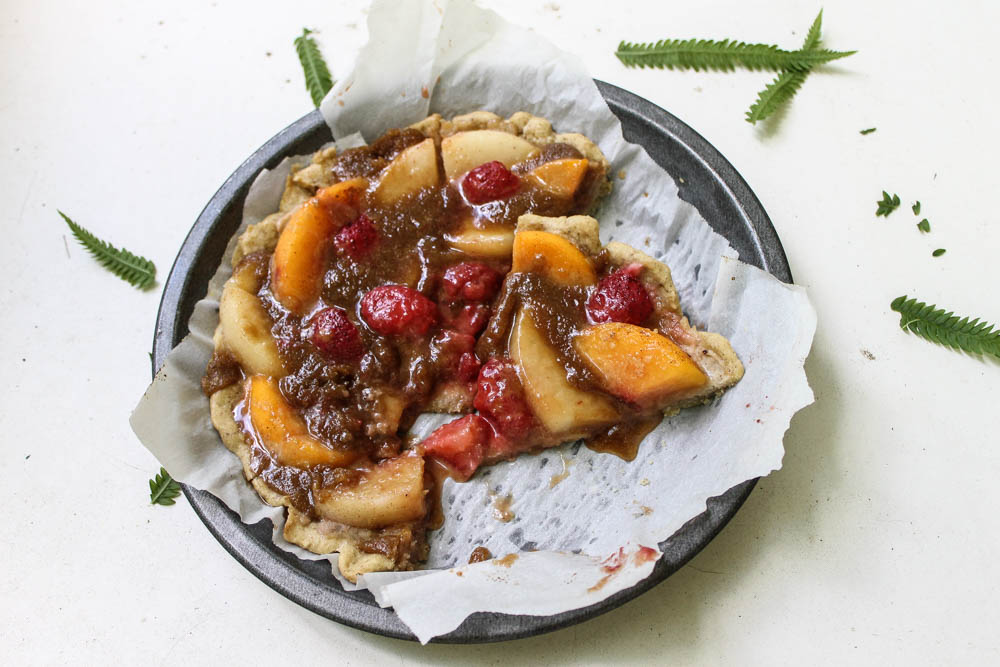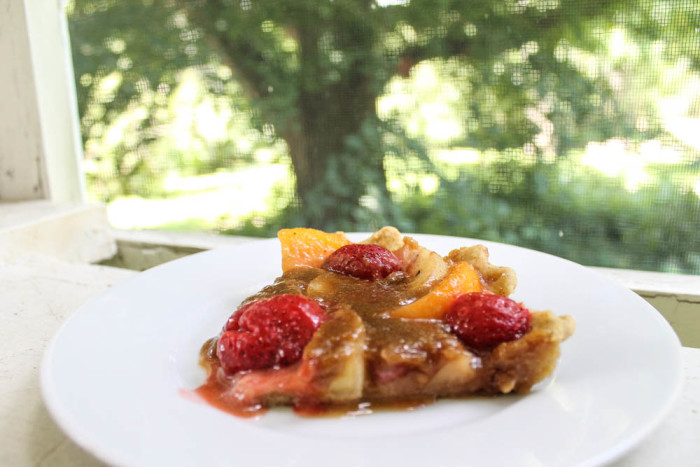 Thanks to my little helper in the kitchen, Eleanor, it turned out fantastic! She helped bake and write down the recipe while I developed it, which was extremely helpful. Plus it was her idea to add strawberries. Brilliant. Thank you, El! <3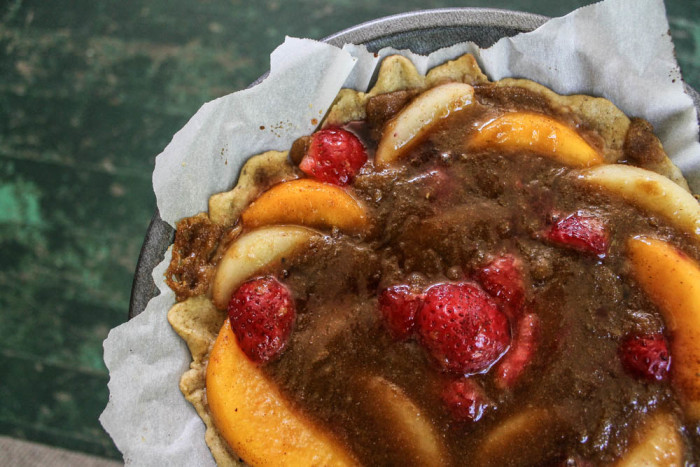 Strawberry Peach Pie
2015-06-25 07:55:14
Crust
1 cup GF flour of choice
1/2 cup earth balance spread or coconut oil
1/2 tsp. unrefined salt
1 tbsp. ground flax
2 tbsp. water
Filling
1 tbsp. lemon juice
1 tsp. vanilla extract
6 ripe peaches, sliced
10 strawberries, sliced
1 tbsp. ground cinnamon
2 tbsp. organic sugar
Brown Sugar Sauce
1/2 cup organic brown sugar
2 tbsp. earth balance spread or coconut oil
pinch of unrefined salt
3 tbsp. organic gluten-free flour
2 tbsp. organic sugar
Instructions
To make the crust, start by combining flour and flax in a food processor and blend, then add the rest of the crust ingredients. Mold dough into a pie pan and freeze for fifteen minutes. While crust is chilling, assemble the filling by preparing the ingredients and mixing them together in a bowl. Bake the crust for 15 minutes at 350 then layer the filling into the pie crust and make the brown sugar sauce in a small bowl. Top with this sauce and bake an additional 10 to 15 minutes. Let cool then enjoy!
Simple Sweets & Treats http://simplesweetsandtreats.com/